The Dispenser™ I, II, III, or IV Soap Dispensers
The Dispenser™ I, II, III, or IV soap dispenser by Better Living Products is the most attractive, practical, and convenient way to organize and dispense a verity if liquid hygiene products. Up to four different products can be dispensed from one dispenser. Used in finer hotels and homes the Dispenser™ organizes any counter top.
The Dispenser™ is used to dispense hand sanitizer, lotion, hand soap, shampoo, and conditioner. The Dispenser™ can be used to dispense any liquid with the same viscosity or thickness as liquid soap.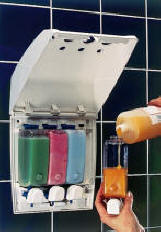 Each soap dispenser has one or more removable 15 oz. bottles that are easily filled from the top. The bottles are enclosed the a slim line cabinet. Open the front cover to expose the bottles. The cover stays open while you fill the bottles. The valves on these units come with a lifetime guaranty. Most models come in white and chrome. The flip up cabinet is easily installed and cleaned.
The Classic™ soap dispensers are listed as The Dispenser™ by Better Living Products.
The Dispenser™ I
The Dispenser™ II
The Dispenser™ III
The Dispenser™ IV
Use the The Dispenser™ I, II, III, or IV in the kitchen, classroom, shower, or bathroom.
Easy to install, the Classic Dispenser comes with instructions, two way tape, and silicone glue. This dispenser installs in minutes. A convenient label page is supplied with each dispenser, allowing you to label the products in the dispenser.
The Dispenser III will hold shampoo, conditioner, and body soap in one clean unit and comes in Chrome.
Durable ABS plastic body
Installs quickly, in just minutes, without tools, on any surface, with silicone glue and two-way tape (included)