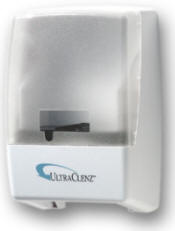 Details
The Simplicity Plus is a high reliability commercial quality automatic dispenser with the following features: battery powered (up to 1-year), external power model available, large capacity (1500ml), optional 1400ml refillable bottle, works with most single and dual valve Bag n' Box containers, easy installation, multiple dose selector (1ml, 3ml or 5ml) and moister resistant enclosure.

At 47 oz (1400ml) this is the only dispenser close to a 50 oz soap dispenser. No contracts for soap so you can use most liquid soaps in this large capacity commercial soap dispenser.

A/C Power adapter, an external wall transformer powered model (AT1138) is also available for applications where externally powered operation is desired. Batteries will serve as backup power if external power is removed.